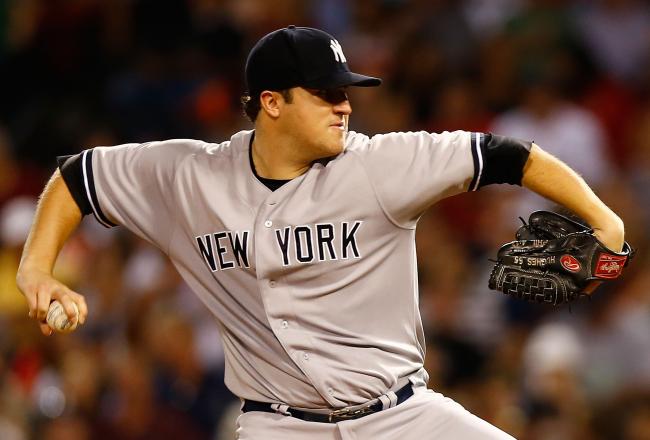 Two-out-of-three in Boston. Just what the Yankees should have expected, and got. There are 19 games left in a nail-biting AL East race where they still can't seem to shake (or be shaken by) the upstart Orioles.
You can't get too high or too low with so much time left, just trust the man on the hill will do his job. And this year, Phil Hughes (15-12, 3.96) has done that. In a season which C.C. Sabathia, Andy Pettitte, and Ivan Nova have all spent time on the DL, and Mariano Rivera was lost for the year, Hughes has taken the ball every time out.
Yes he's given up a ton of Home Runs (33) but the key number (besides 15 wins) is 175 Innings Pitched. And after a rocky first two months, he's gone 6 innings or more in 14 of his 19 starts.
You can point all the way back to May 22nd when the Yankees were 21-21 and 5.5 games out of 1st place. They were still lost in the wilderness without Rivera and had no direction. Hughes (then 3-5, 5.23) threw 6 solid innings in a win vs KC which began a team run of starting pitching that had not been seen before, and may not be seen again.
It was a 24-game span in May and June that defined the Yankees season. The Yankees won 20 of 24 and their starting pitchers, with their rotation fully in tact, went 18-2. And maybe even more remarkably, those starters went 6 or more innings in 23 of those 24 games.
You could say that makes Joe Girardi's job a lot easier, but he had to have the trust in guys like Hughes and Hiroki Kuroda to work through their issues, and they flourished. On June 3, Hughes went the distance, out-dueling Justin Verlander. And Kuroda has arguably been the Yankees' ace - and is a start away from 200 innings.
Now Nova returns from the DL on Saturday, and Pettitte on Tuesday. The Yankees have held the fort down for the cavalry to return while the O's get a 6-game West Coast trip.
And just another reminder before any more games are played that Girardi is only the second-most tightly-wound manager in baseball.