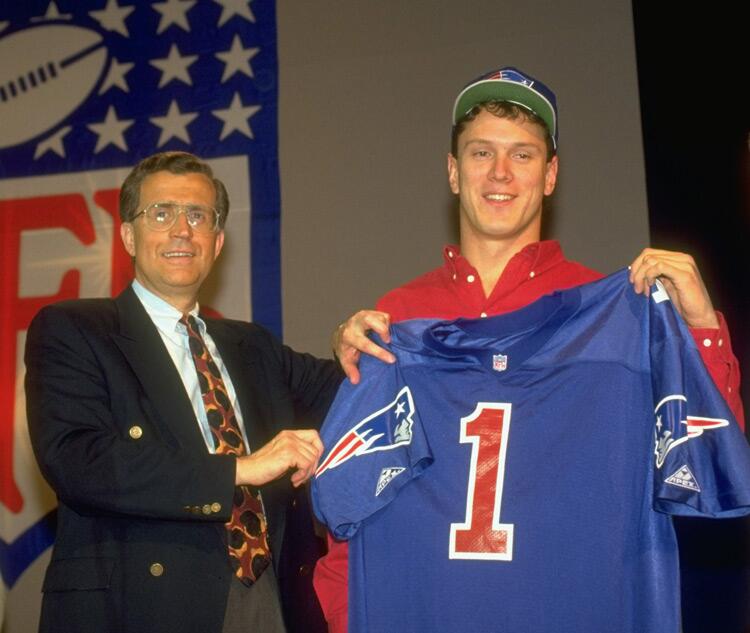 This site sometimes wanders to a professional resume or bio, and the memoirs of a mid-level TV producer. It certainly be categorized as non-fiction, and some may even find my adventures interesting.
Pictured above is the first overall selection of the 1993 NFL Draft, Drew Bledsoe. It was also the first selection in the NINE drafts I covered between 1993 and 2002.
Sure you remember 1993. Back when Paul Tagliabue was commissioner, the draft was at a midtown New York hotel, and ESPN did only 5 hours of coverage.
I was assigned as the producer for reporter/interviewer Adrian Karsten. I was 24 years old in a gangly suit and a bulky wireless headset. I would deal with the point people for the players in the green room and facilitate the interviews.
The main storyline that day was whether the Patriots would take Drew Bledsoe or Rick Mirer with the #1 pick. I specifically remember meeting Willie Roaf and Jerome Bettis before they played a down in their illustrious NFL careers.
At one point, then-super agent Leigh Steinberg claimed that our producer Fred Gaudelli reneged on some sort of interview arrangement. I was in the awkward position of relaying a very explicit and profane message to my boss.
In 1994, I was the graphics point person in Bristol when the move was made to cover the entire draft on ESPN and the fledgling ESPN2. At one time I had a "I survived the 1994 NFL Draft on ESPN2" T-shirt. We worked all day Saturday and all day Sunday until the draft was done.
While graphics in New York was responsible for the bulk of the work, I was constantly grinding back in HQ. I had one graphics machine (
Infinit)
and operator on my right responsible for all the reporter/remote sites. On my left was another machine and another operator responsible for compositing every player selected with the logo of the team that just drafted him. It was easy to get behind and we'd have to chase our tails to catch up. I remember one stretch going nine hours without standing up, much less going to the bathroom.
I did so well on the inaugural full draft in 1994 that I drew the same assignment the next two years. As with a number of things in my Bristol years, I had to leave to get promoted. From 1997-1999, I was the field producer at Miami Dolphins camp in Davie FL, complete with "War Room Cam." You may remember Jimmy Johnson's draft-day maneuverings as the early model for how teams do it today.
Mort was my reporter the first two years. I've never seen anyone work the phones harder - from getting all the insider stuff from around the league to relaying to his wife the lineup for his son's little league baseball team. I also had a blast with Hank Goldberg in the third year.
In 2000, I was with Ed Werder in Ashburn VA at Redskins camp. You might remember them picking LaVar Arrington #2 and Chris Samuels #3, and the two of them landing via helicopter on the Redskins practice field. Or you might remember Daniel Snyder blowing on a mammoth cigar in the Redskins war room.
After a 1-year hiatus, I was asked back to help consult on graphics in New York. The irony there was that it was one month after I had moved to Omaha. It took me 9 years to get back to New York, and by then I didn't live there anymore!
I still hadn't fully moved out so I got the rare combination of a flight, but no hotel room. Just another example of all the "right place, wrong time" moments that have dotted my career. Or is that the other way around?