It's too easy to blame Mark Sanchez or the anemic offensive line. The Jets offensive problems lie in a repetitive pattern of history, constantly hiring the wrong man for the wrong job at offensive coordinator.
It hasn't always been awful, just mostly awful. Charlie Weis had three good years when the Jets had briefly changed their identity under Bill Parcells from 1997-99, and Paul Hackett actually had moderate success working with Chad Pennington in the Herm Edwards years from 2001-04.
But if you're a Jet fan, the list below will inspire nothing but seething anger at all the years of miserable play-calling and brain-dead clock management. Years of our lives that have been thrown away on a collection of has-beens and never-will-bes.
Joe Walton 1981-1989
Walton was actually a good offensive coordinator in 1981 & 1982, although that just happened to coincide with the NFL debut of Freeman McNeil. Once Walton was promoted to head coach, it was a disaster. For years, the fans chanted "Joe Must Go!" and management didn't listen.
After his second year as head coach, the offensive coordinator duties were unloaded on...
Rich Kotite 1985-1989, 1995-1996
Kotite saved Walton's job at first. Then he gradually took the Jets offense down the tunnel to hell. And for good measure he was rehired as the worst head coach in Jets history. In 1995 & 1996, the Jets were 4-28.
After a brief search on the internet, I found the picture that all Jet fans would cover their dart board with, the only picture living on the web of great minds Walton and Kotite together.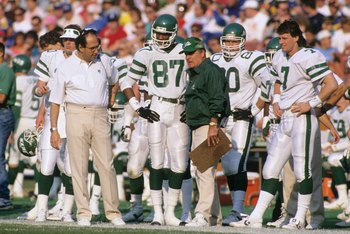 Bruce Coslet 1990-1993
He was hailed as a visionary after great success as the Bengals OC in the late 80s. But after 4 non-winning seasons in the dual role of Head Coach & Offensive Coordinator, he was shown the door. That paved the way for the one-year fiasco that was the Pete Carroll era, a few years too early.
Coslet returned to his assistant role with the Bengals until David Shula was fired, then he drove the Bengals into the ground too. His career record as an NFL Head Coach: 47-77.
Brian Schottenheimer 2006-2011
"Schottie, you suck," said Mark Sanchez on HBO's
Hard Knocks
, after Sanchez called a preseason game-opening drive for a TD.
Personally I thought Schottenheimer was awful. I know he got stuck with Brett Favre, and a rookie Mark Sanchez, but somehow the team succeeded despite him. He was a classic game-planner that would rather trick you than just beat you. Thank goodness the Jets had a punishing RB like Thomas Jones who had a couple of brilliant seasons in that stretch.
Tony Sparano 2012-
Sparano got dealt a bad hand too. A few years ago, he had success running the Wildcat with the Dolphins. But since then the gadget offense, as any fad in the NFL, was figured out and dismantled. But the word came down from up high (no pun intended) to involve Tim Tebow.
Early in the season, the results were mixed. But later in the year, all it did was take Sanchez out of rhythm and bring any semblance of cohesion in the offense to a grinding halt.
Does he deserve to stay? Rex Ryan? Sanchez? Tebow? Does anyone?
Others
Who could forget one-year wonders like Ray Sherman (1994), Ron Erhardt (1996), Dan Henning (2000), or Mike Heimerdinger (2005)?
This is the problem with the Jets and their offensive coordinators: they mostly hire retreads, and when they don't they hire guys who have to justify their existence by being fancy.
My only advice, whether hiring an offense-minded head coach, or just a new OC, please do not hire Andy Reid, Norv Turner, or Todd Haley.
Find a guy who's hot, innovative, on the way up, and throw a bunch of money at him. Like they do in college.