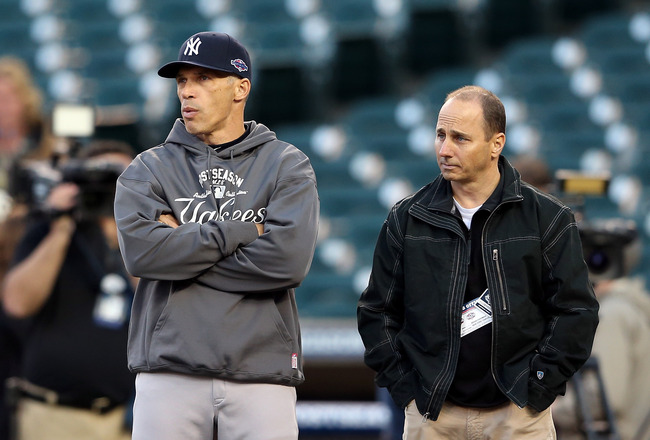 I would have plenty to comment on the Yankees postseason moves...if there were any. Usually there are transactions and plenty of distractions, but this year there's mostly inaction.
Don't get me wrong I think the brain trust knows what it's doing, but this is just boring. They re-signed Hiroki Kuroda and Andy Pettitte to 1-year deals. And just now as I write, Kevin Youkilis has signed a 1-year deal to hold down third base for a bit. And all signs point to Ichiro re-signing for one year as well. There is Moneyball, and there is Brian Cashman-brand CashBall.
This is not a calm before the storm, but rather a method to the madness - as I mix metaphors. The Yankees' over-inflated payroll has cost the team a fortune in salary cap luxury tax. Now after seeing the exponentially diminished ROI on the A-Rod investment, they are being a lot more frugal to keep their payroll in line. As opposed to teams like the Dodgers.
The 1-year deals make sense, not just for the veteran pitchers, but for Youkilis as well. Alex Rodriguez still has multiple years left on his contract and will be set back by hip surgery to start the year. It would be difficult to see him playing anything other than DH when he returns. And if he can't hit, that would make for a very ineffective DH. Youkilis is a proven hitter (though not last year) and a strong defensive 3B.
There is still a fairly large hole at the catcher position, after Russell Martin signed a free agent deal with Pittsburgh. I don't have a problem with this as I see catcher as a defensive position first, and it's not like Martin set the world on fire with his bat (.211, 21 HR in 2012). For historical reference, the Yankees replaced Mike Stanley with Joe Girardi in the mid-90s, which coincided with a dynasty. Hmm.
But the Yankees now are down to three catchers on the 40-man roster: Chris Stewart, Francisco Cervelli, and Austin Romine. We don't expect much at the plate, but which of these perennial backups and career minor leaguers will handle a venerable pitching staff?
What you do see is an emphasis on speed: Brett Gardner, Chris Dickerson, Eduardo Nunez, and Ichiro Suzuki (if he's back) are all guys that can steal 30+. So what we see here is not only a re-shaping of the Yankees organizationally, but on the field as well.
The upcoming season promises to be interesting, even if the offseason hasn't been.