Whatever you think of the revamped MLB Postseason format (and I don't know anyone who is 100% comfortable with it), it is what it is. And the Tigers are up 2-0 over the once-sizzling Athletics in the ALDS, hours before the Yankees and O's ever saw a first pitch.
Detroit slept-walked through the first half, just 44-42 at the All-Star Break. But they had a ton of experience in a weak division and it didn't hurt to take 8 of the last 9 from the White Sox, who had led the division practically the whole season.
The Cabrera-Fielder, 3-4, right-left combo in the middle of the order is one of the most fearsome in recent memory. Only Manny-Papi and Bonds-Kent come to mind.
Miguel Cabrera of course won the first Triple Crown in 45 years. And it's nice to have the protection of Prince Fielder, at .313, 30, 108, hitting behind you. Fielder hit .337 from August 1 when the Tigers needed him most. And the above photo really does symbolize their relationship and the attitude they radiate through the team. Baseball is a game, and their infectious enthusiasm for it makes every Tiger game fun to watch.
Cabrera has been knocked for his defense, but he moved from 1st to the much tougher 3rd Base to make way for Fielder's arrival. At 29 years old, he may have the maturity and leadership to carry Detroit to their first World Series since 1984.
And there's another 29 year-old that's quite possibly the best in the game as well.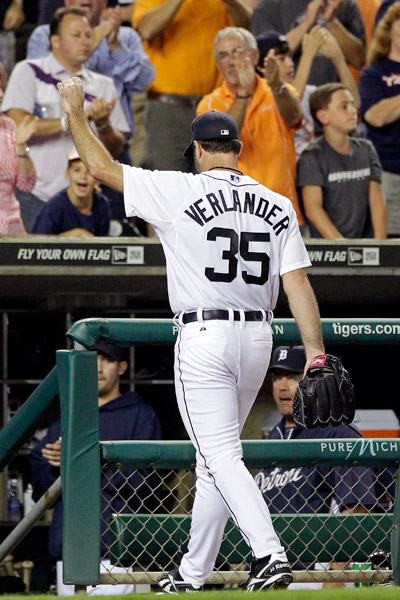 After collecting a Cy Young and MVP award in 2011, Justin Verlander also finished huge in 2012 with a 5-1 September. He leads a strong young rotation, with a seasoned (albeit inconsistent) bullpen that has Manager Jim Leyland's enduring confidence.
And there's a certain mystique to Leyland. When Tony LaRussa or Buck Showalter, or even Joe Girardi micromanages a game, you want to throw things at the TV. But with Leyland it always seems like some old-school, home-spun wisdom.
As a Yankee fan, I might already be psyched out remembering 2006 and 2011 eliminations very clearly. But as a baseball fan I tend to get hunches about this sort of thing.