In Week 6, the Jets finally found their identity in a 35-9 win over the Colts. All you need to do is read Shonn Greene's stat line: 32 carries, 161 yards, 3 TD. I don't know if it was his season wakeup call that was late, or his offensive line's, but it's hard to argue with the results. What have you done for me lately? Quite a bit, thank you.
The Jets combined for 252 rush yards including a 61-yard "jet" by Joe McKnight, who injured his ankle on the play, and now Jets nation sweats another Monday MRI.
The run game set up the pass game, which is the way it's supposed to work. Mark Sanchez's totals were way down, but he had a couple of nice TD strikes to the Hill boys. And Tim Tebow completed a brilliantly-designed 23-yard pass out of punt formation on 4th and 11.
So despite the Jets' bipolar start, they are an even 3-3 along with the rest of the AFC East.
While one New York team was finding its way, another just two crossed rivers away, looked completely lost.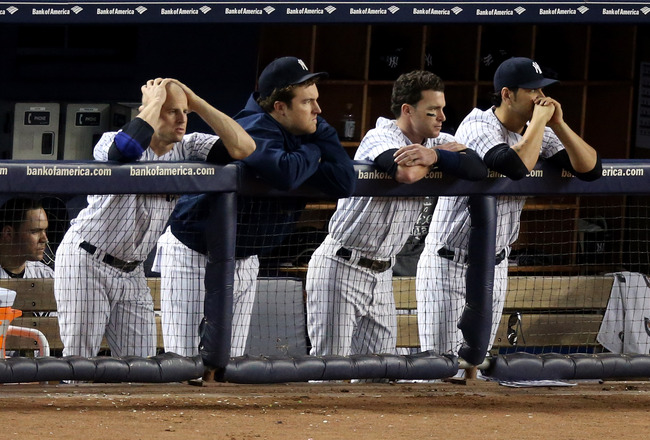 The Yankees can't hit, and they really haven't the entire postseason. They scored 5 runs in the 9th inning of ALDS Game 1 vs Baltimore and 4 runs in the 9th inning of ALCS Game 1 vs Detroit. In the other 70 innings they've played this postseason, the Yankees have 11 runs.
While A-Rod is the lightning rod, at least he's occasionally hit the ball hard.
It's Robinson Cano who has disappeared from the face of the earth. In the season's last 9 games, he was absolutely flammable at 24-39 (.615). In the playoffs, he's hitless in his last 26 AB.
You just can not figure out baseball, Suzyn.
After another brilliant pitching performance, Hiroki Kuroda could only shake his head at the outcome.
Now the Yankees head 0-2 to Motown without Derek Jeter, and are in desperate need of some run support. They can't count on the level of pitching they've gotten, and it's time for the bats to pick them up.
I think they need to slide Eduardo Nunez right in at the leadoff spot. His bat is live and he's a terror on the bases. Even though he's a butcher in the field at shortstop, it has to be worth the risk at this point.
Game 3 is Tuesday night, Hughes vs Verlander. Haven't we met somewhere before? Oh yes, June 3rd. It was Hughes's only complete game of the year in a 5-1 Yankees win and A-Rod took Verlander (very) deep.
Then there's the more recent August 6th game when Verlander struck out 14 and the Tigers dominated. So there's always that to look forward to.